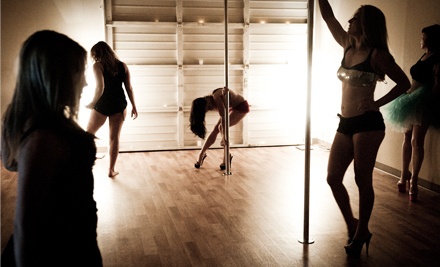 I've never been a regular student at a pole studio (circus, yes), but I like to do drop-ins here and there. It's fun because you get to see not only different combos, but different studio cultures. Some studios are more open or friendly, some are more cliquish; some feel like a gym, some feel like a spa; some are about competitions and some are about the cocktails that everyone goes out for after class. But everywhere I go, in almost every scenario--open pole, instructed class, pole jam--I see one thing in common: students standing around, holding the poles, and looking around the room.
Things I want to say to these people:
Are you logging this as a workout?
Didn't you pay money to be here?
MOOOOVVVVE, DAMMIT!!!
If you are standing around a pole studio zoning out at the hottie next to you doing tricks, you are not working out. You are not training. You are probably not learning.
And don't think I'm limiting this to pole. I have a hard time being a Patient Pippi at other aerial training when students are sharing apparatuses, and somebody's turn opens with an extensive prelude of holding the silks and staring up at the ceiling, "thinking." Forgive the vulgarity, but "shit or get off the pot!" People are waiting.
But that's how we let ourselves get away with it: we are "thinking." Unlike going to the gym and doing the same circuit workout three times a week, when we approach our apparatuses we DO have to think hard about what we're doing. We have to analyze, visualize, and galvanize ourselves into executing a scary drop. And we can benefit from watching our classmates work through the same moves.
Don't fall for it. Sure, you need to process, watch, and prep. But do so consciously, or else you're just stalling.
It reminds me of my days at conservatory. I hung out with, and often worked with, pianists. I remember them telling me how their teacher would scold them if they placed their fingers on the keys and then just sat there. Instead, they were instructed to do all their mental prep first, with their hands tucked away in their laps. Then, when they were ready, they could touch their instruments, in the tempo and feel of the music, breathing in time and ready to go.
You have to find that moment of quiet BEFORE you touch your instrument. Why? Because when you place your hands as if you're ready to start, it's easier not to notice that you're stalling. When you keep your hands to yourself, that moment of just sitting there, proverbially naked without your instrument to shield you, feels awkward unless your artistic soul is truly finding its expression. And because the way you approach your instrument--your piano, your pole--should be a part of the song.
If you catch yourself standing around holding your apparatus, your homework is twofold:
Stop stalling. If you're thinking, think on purpose. If you're watching, watch on purpose. If you're not, get the hell upside-down.
Let go. Find your inner music. And then reach out and go.
Think with intention. Dance with intention. Shit or get off the pot.
Image from groupon.com.